A Key Medicaid Protection Is at Stake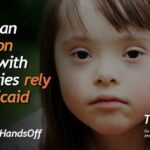 Every day, Medicaid supports millions of people with disabilities to live independently in their community.
However, the Centers for Medicare and Medicaid Services (CMS) is proposing to significantly weaken an existing rule that makes sure that Medicaid reimbursement rates are enough to allow people to access services and supports that they need.
Background: If reimbursement rates are below costs, providers will not want to participate or will not be able to provide high quality services. This means that people will not be served or will be put on waiting lists. Inadequate reimbursement rates can also mean low wages and high turnover rates for direct support professionals (DSPs). The work of DSPs is invaluable to the disability community and the service system that relies on their abilities to keep people out of institutions. You can learn more about the proposed rule here.
We must tell CMS that it should expand and improve – not weaken – the current rule, so that no one will have to go without services and supports. CMS needs to hear from individuals with disabilities, parents, family members, advocates, and service providers that this is a critical issue!
There is still time to send a message to CMS. They will be accepting comments until September 13. That means we only have two days to send in as many comments as possible to stop the rule from being implemented and ask CMS to strengthen the existing rule.
Fill in your information here and you will be brought to a page with draft comments that you can personalize and submit directly to CMS.
Thank you for your advocacy!